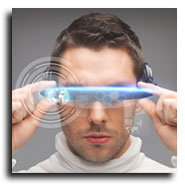 ITCL develops research and innovation projects within the field of ​​graphical computer science of simulation and virtual reality.
Simulation

and virtual reality technologies

In this field, are comprehended the following technologies:
High Performance Simulator Design: Virtual training for military and risk environments, machine handling and driving of special vehicles.
Interactive / 3D industrial maintenance manuals and product manuals.
Virtual Reality (RV) / Augmented Reality (RA) for heritage, trade, tourism and museums: Virtual tours, interactive systems for visitors / clients.
RV / RA for training: Educational video games, Serious Games, courses, interactive support tools for the disabled.
Artificial vision: Advanced recognition algorithms: Detection of defects in parts, classification, monitoring and biometry, facial reconstruction, 3D model capture, Indoor Tracking and environmental recognition, visual odometry.