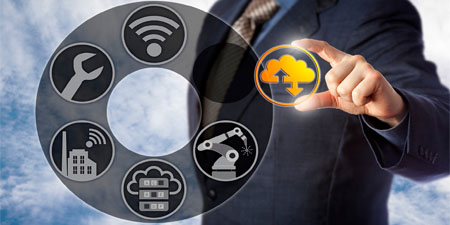 Productio – Industrial improvement through enabling technologies
Project Description:
PRODUCTIO (PROductivity InDUstrial EnhanCement through enabling TechnlOgies) is a multisectoral and multidisciplinary R&D Consortium effectively collaborating, made up of 8 top-level companies, 7 of them industrial, led by GMV (Soluciones globales Internet) and supported by 5 benchmark Research Organizations in Spain.
The project:
It focuses on use cases of certain leading national industries, from various sectors (automotive, machine tools, steel industry,…). It aims to be the seed of standardized solutions within the Industry 4.0 concept, by creating a reference architecture and the necessary framework for the interoperability of the connected industry.
Aligns the vision of the Industrial Partners with the vision of the ICT Partners.
It focuses on the investigation of a high number of technologies that influence Industry 4.0 or Connected Industry. And proposes a new perspective that combines three important pillars: advanced maintenance, value chain management and cybersecurity.
Enabling technologies for Industry 4.0
PRODUCTIO prioritizes research into the current needs and challenges of industrial companies, as well as their digitization, in order to optimize the overall industrial efficiency rate through the enabling technologies of Industry 4.0 (Big Data, intelligent algorithms, machine learning, cloud computing, collaborative robotics, virtual reality, augmented reality…).
It complements this strategy with the integration of flexible platforms adapted to industrial problems, allowing them to be put on the market once validated in the case studies of the industrial companies involved in the project.
The project budget is €7.7M over 48 months.
Project Resolution Objectives:
The objective of the project is to research on various technologies, techniques, tools, methodologies and knowledge aimed at increasing the operational capacity of industrial processes (Overall Equipment Efficiency – OEE) within the framework of the connected industry. The project will enable the adoption of productive and maintenance solutions in the connected industry and facilitate digital trust through new security approaches.
Project Duration:
2016 – 2020
National Project in Cooperation with:
Public Research Organizations:
Contact person:
Javier Sedano – R&D Director at ITCL Technology Center