Sustainable Mobility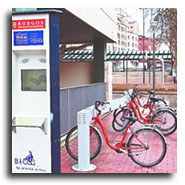 The Sustainable Mobility department develops boosting tools for new ways of transport, urban areas mobility organization, companies' intern-mobility, etc.
Our projects seek to provide a set of technological applications to improve and optimize urban mobility by making it more efficient and sustainable.
Department's objectives
Some of the department's objectives are the following:
Provide alternative means and methods to the usual urban mobility.
Enhancing the interoperability and integration between different means of urban transport.
Integrating intelligent recharging systems for electric vehicles.
Deploy and manage mobile offices for citizen services.
Provide different tools for implementation and management of initiatives related to carsharing, carpooling, etc.
PUBLIC BICYCLE SERVICES (SBP)
Automatic, scalable and sustainable service

Public bicycle systems are bicycle lending services in urban centres, generally driven by the public administration.
They differ from traditional bicycle rental services, which are more oriented towards leisure or tourism, because they are designed to provide a practical and fast mobility service for everyday use. So that, they can be considered as an individual public transport.
Public bicycle systems can currently be divided into two types, manual or personal care systems and automatic systems.
ITCL has designed and developed its own Bicicard product, with more than 10 years of experience in the sector and 64% of the implementations in Spain and Portugal. It is characterized by being automatic, scalable and flexible in terms of operation, location and application of tariffs.
These systems provide a group of users with a series of bicycles to be used temporarily as means of transport. They make it possible to pick up a bicycle and return it at a different point, so that the user only needs to have the bicycle in his possession during the journey.
The bicycle can be left at any of the other points. Thus the bicycle becomes one more means of public transport, which can be used to go from one stop to any other in the city, without the need to return to the original point.
SBP Websites:
BICIBUR, bicycle lending service in Burgos, Spain
BICIOURENSE, bicycle lending service in Ourense, Spain
En bici por Avilés, bicycle lending service in Aviles, Spain
BICINRIVAS, bicycle lending service in Rivas, Spain
BiBa, bicycle lending service in Badajoz, Spain
Denibici, bicycle lending service in Denia, Spain
Bicisanvi, bicycle lending service in San Vicente de Raspeig, Spain
MOBILITY AND TRANSPORT PLANS

Sustainable mobility management
Current mobility habits in cities are characterised by continuous urban expansion and increasing dependence on private vehicles, resulting in high space and energy consumption and environmental impacts. This highlights the need for a well-designed urban transport system that is less dependent on fossil fuels. To achieve this, resources have to be made available, measures implemented and trends changed, all of which requires the awareness and involvement of society as a whole and collaboration between the different administrations in order to achieve integral solutions that imply a change in the trend towards sustainability in urban mobility.
The current patterns of urban mobility and their consequences highlight the need to act immediately to alleviate their negative effects and try to reach a sustainable city level. The implementation of sustainable mobility plans is a tool to achieve this objective. Likewise, work mobility plans are an instrument for companies and workers to reduce the impacts generated by commuting to workplaces.
The mobility plans aim to integrate all the benefits associated with sustainable transport.
Technologies at the service of the intelligent city
Cities play an important role in social and economic development. Today 50% of the global population lives in cities, and it is estimated that by 2050 the urban population will double from 3.3 billion to 6.4 billion. The main 100 urban agglomerations account for 25% of global growth. The rapid urbanization creates an enormous stress in the development of the countries, originating "megacities" (more than 10 million people) on the world development.
Countries' development is also reinvested in stressful, in terms of congestion, pollution and land use, cities. A 2% occupation of world soil would cause 75% of the greenhouse emissions; therefore, cities should lead the efforts in reducing carbon emissions and in increasing renewable energies use.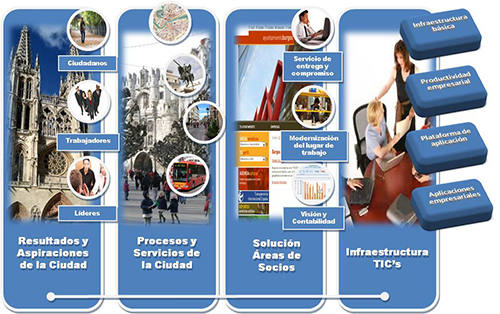 The high amount of changes, uses and opportunities allows cities to be the ideal platforms for new digital apps and services.
ICTs and more specifically, new technologies and services through the Internet will be essential for cities in terms of developing sustainable socioeconomic and environmental changes in a carbonless world. ICTs can help with managing the increasing demand for a better life quality within urban environments.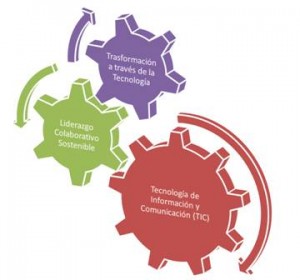 Smart City aims to increase the prevalence of the political and commercial vision for the urban future, responding to the pressures and changes presented by population growth, sustainable changes and advances in digital technology.
"Smart City" initiative
The "Smart City" initiative focuses on the sustainability issues of today's cities and, more specifically, energy systems (European Commission, 2010). In this case, a Smart City is defined as a city that improves the quality of life and the local economy, moving towards a future low in CO2 emissions. Investments in energy efficiency and local renewable energies, together with reductions in fossil energy consumption and CO2 emissions, are tools that help achieve sustainability and improve city's quality life.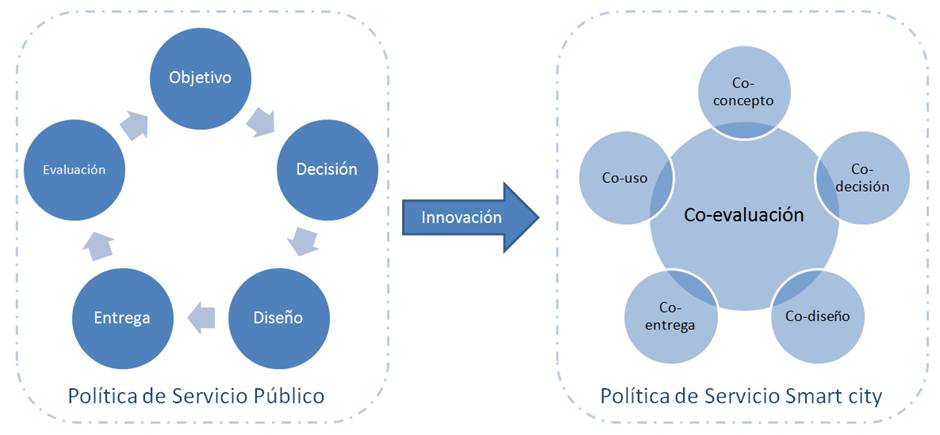 Smart City involves innovative measures in energy management (including transport networks, buildings and transport), greatly reducing the use of fossil fuels and reducing CO2 emissions, all focused on meeting the 2020 targets of the Smart Cities initiative.
IIn this sense, ITCL carries out projects with public administrations and companies in the sector for the development and innovation of processes and technologies that favour the implementation of Smart City in the fields of energy, transport, ICT's with turnkey solutions for the benefit of citizens, companies and administrations.
ITCL DEVELOPMENTS IN SUSTAINABLE MOBILITY