OTRI ITCL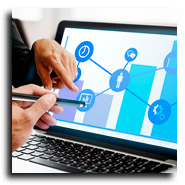 The OTRI-ITCL (Transfer Office of Research Results) of the Castilla y Leon Technological Institute (Registration number 173) aims to promote and facilitate cooperation in R&D among researchers and businesses both on the national and European framework.
OTRI-ITCL is an interface unit whose function is to carry out mediation between the agents of the science-technology-company-society systems, whose primary mission is to revitalize and promote relations between them. For this purpose OTRI-ITCL is dedicated to identifying the technological needs of socio-economic sectors and to promote technology transfer between public and private sector, thus contributing to the implementation and commercialization of R&D results.
The European Programs unit aims to identify R&D and innovation in companies to help them on proposals preparation for Horizon 2020 for R&D of the European Union, as well as to work on the internationalization of R&D
Liaison between the ITCL, and their socio-economic research environment, encouraging collaboration between ITCL research groups and companies, universities and institutions to promote actions of R&D&I so as technological support, identifying and transferring technological demands of the different productive sectors to the research groups.
Unit with the responsibility of informing, advising and managing the research activities agreements or contracts
Unit who discloses and publishes all the news and events related with technology transfer, and the scientific-technological results generated.
Unit that informs, advises on patent filing and IP results.
Unit which informs and advises on the various programs of R&D&I (regional, national and European) and gives assistance within the partners searching.
Unit that belongs to a great number of networks to help providing the link-ENTERPRISE-OTRI-ITCL.
The European Projects Unit of the Technological Institute of Castilla y Leon offers information, advice and support to the center's own research staff and the units of R&D in the enterprises of the region during the preparation of proposals and participation in European research programs. Promotes and facilitates the effective participation of Spanish professionals in European research through:
Dissemination of information on calls and tenders of the EU scientific programs.
Assistance in submitting proposals for research and exchange programs and training of researchers.
Training in specific areas as required.
Aid researchers in finding partners for project development.
Keeping track of technical administrative projects.
Participation in projects as technology service providers or R&D
SCIENTIFIC-TECHNOLOGICAL OFFER

The OTRI-ITCL, as a body of interface between the ITCL and productive enterprises, may offer several business services.
The OTRI-ITCL offers companies all the resources, human (research staff) and technical infrastructure to develop with companies and research groups the R&D projects to help the company improving its own competitiveness and productivity, advising them also on public finance and tax relief available for the project execution.