Energy Systems and Models for Industrial Applications
Energy Systems and Models for Industrial Applications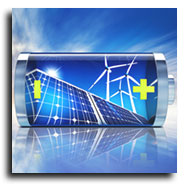 Promoting energetic efficiency is the main objective of the Energetic Efficiency and Sustainability department. This department works in both national and international projects which aim to implement technological solutions in diverse sectors.
Our team works daily in increasing competitiveness of productive sectors, as well as on facilitating the compliance with national and international commitments in environmental matters such as the Objective 20-20-20 and in modernizing the technological fabric.
During past years, ITCL has accumulated experience and has a demonstrable results track in the study and the improvement of energetic efficiency in productive industrial systems and in its auxiliar systems, with special attention to industrial cold installations.
To this end, it collaborates with industrial companies to carry out energy audits, to implement energy management systems, and to carry out very specific development projects, with R&D components, to develop solutions that are not in the market.
As a result of this type of work ITCL has developed specific tools for industrial cold installations, always aiming to improve energy efficiency and the costs associated with its operation.
Intelligent systems for monitoring use of energy and integrated control of energy consumption in large installations
Energy management systems SIGE. Software to aid decision making
New systems for the implementation of renewable energies
David Gonzalez and Phd Javier Sedano are in charge of the Energy Systems and Models department.
Phd Javier Sedano is the manager of the Energetic Models knowledge unit. He is an expert in the development of electronic devices (hardware) and in industrial control systems, as well as in the design of connectionist models for identification, classification and dynamic systems modelling in Big Data and Blockchain.
David Gonzalez works as a Project Manager of this department. He is the technical responsible for R&D projects in the Energetic Efficiency and Sustainability department. David is an expert in energetic efficiency in both industry and services, energetic audits and ISO50001 implementation, as well as in R&D&I European and National projects.
Javier Gonzalez works as a Project Manager of this department. He is the technical responsible for the development of energetic models in the industry. Javier is an expert in refrigeration installations in industrial environments, development of energetic management systems and in European R&D&I Projects.
Phd Cesar Merino works as a Project Manager of this department. He is the technical responsible for R&D projects in Hidrogen
DEVELOPMENTS FOR INDUSTRIAL REFRIGERATION SYSTEMS

IRS INDUSTRIAL REFRIGERATION SUPERVISION
ENERGY MONITORING SYSTEM FOR INDUSTRIAL REFRIGERATION SYSTEMS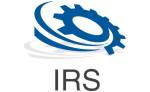 With the vision of putting technology at the service of energy efficiency, ITCL has focused on R&D&I to give added value to Energy Efficiency projects.
Awareness of sustainable development is gaining momentum among individuals, companies and institutions.
This product is a specific solution for the supervision of industrial refrigeration installations, in order to follow its path towards energy efficiency through an innovative approach and with great impact on the energy consumption of its plants.
CHARACTERISTICS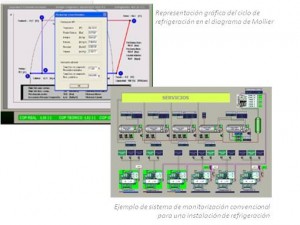 Monitoring of the efficiency of the refrigeration installation in real time in parallel with the main Scada.
Real time monitoring of the "energy efficiency" based on the production of cold and the consumption of the installation at every instant.
Detailed information on the main operating parameters and energy aspects of the refrigeration plant, including economic costs.
By applying specific thermodynamic equations for each installation, it provides data that cannot be determined by conventional monitoring systems.
FUNCTIONS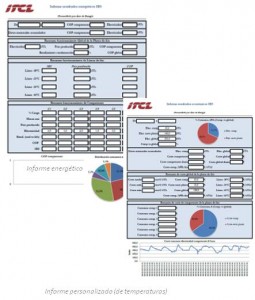 By means of a computer application, it offers relevant information in real time of the energy indicators of the refrigeration installation:

Compressor performance
Performance deviation from ideal performance
COP (Coefficient of performance), instantaneous and global
Amount of cold produced
Daily costs associated with cold production
Average cost kWh/cold produced
Breakdown of consumption by equipment and by period
It allows to generate daily/weekly/monthly reports, offering a global vision of the operation of the cold plant.
Generates energy reports
Economic reports
Personalized reports according to the client's needs (temperature in chambers, freezing tunnels…)
OBJECTIVES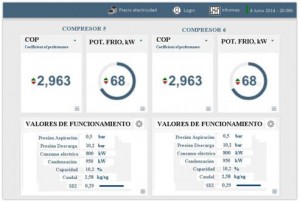 Quantify the current level of energy efficiency of the installation.
Identification of the real potential for energy improvement.
Daily control of energy efficiency, energy consumption and associated costs
IRC INDUSTRIAL REFRIGERATION CONTROL
Intelligent energy control and optimisation system specifically for industrial refrigeration systems
The IRC Industrial Refrigeration Control allows us to reduce the energy consumption of the refrigeration plant through the modification of key parameters of the installation.
Experiences to date have resulted in savings of between 15% and 40%, with investment returns of between 6 and 18 months.
CHARACTERISTICS

IRC Based on data monitored by ITCL's IRS energy monitoring system.
Calculated in real time the optimal equipment configuration parameters that maximize the plant's energy efficiency for the real cooling needs at any given moment.
FUNCTIONS
An expert, tailor-made control is designed for each industrial refrigeration installation based on its cooling and climatic zone needs.
The expert control will act automatically over the general control automaton of the refrigeration plant, modifying its key parameters in order to increase the overall performance of the installation.
The following aspects are optimised by means of decision algorithms based on real-time operating parameters:

Sequence of operation of the main equipment
Start and stop instructions
Operating instructions (pressures, temperatures…)
SUCCESS STORIES
CASE 1: IMPROVED CONTROL IN A MEAT SLAUGHTERHOUSE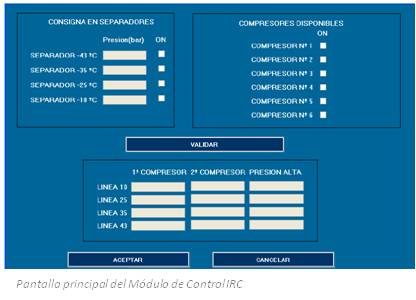 Pig slaughterhouse 1MM carcasses/year
Improvement of the cold production obtained with an expert control system developed to measure
20.5% reduction in the energy consumption of the refrigeration plant
Actual savings: 166,000 €/year // Payback: 6 months
CASE 2: COMPRESSOR CONTROL OPTIMIZATION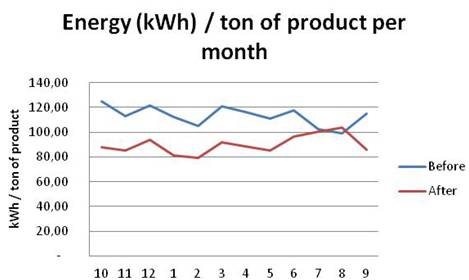 Seafood Processing Company
Proposal of change of standard control of compressors in refrigeration installation by an expert control proposed by ITCL.
42% improvement in annual energy consumption
Annual saving: 180,000 €/year