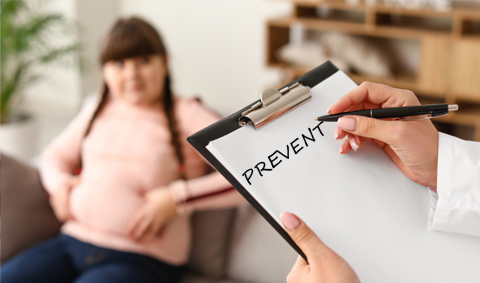 PREVENT – Primary prevention of cancer by addresing childhood obesity
PREVENT improves upscaling of primary interventions for weight control management during childhood and adolescence to reduce cancer risks in adulthood. This relies on current evidence that relates excess body weight with increased cancer risk.
Towards this end, PREVENT applies a series of implementation research actions in the following directions. First, it identifies barriers to current interventions and policies preventing them from upscaling to different geographical, socio-economic, and cultural settings.
Then, it introduces new multi-actor and context-aware interventions along with new user engagement strategies to face the current upscaling bottlenecks; multi-actor in the sense that they target different types of users (e.g., students, family, educators, policymakers) and context-aware in the sense that PREVENT interventions are tailored to the specific implementation places (class, canteen, sports fields, labs, outside school). The PREVENT new policies are adapted, piloted, and scaled up within the schools' communities of three European countries facing different epidemiological settings on childhood obesity, geographic, socio-economic and cultural attributes. The pilots are designed to be holistic end-to-end ecosystems, including users, medical professionals, policymakers, public authorities, and civil communities
Artificial intelligence | Health
Project Description:
PREVENT aims to fully identify, understand and overcome the barriers and the challenges towards the implementation of successful strategies against childhood obesity. To this end, PREVENT will implement three Living Labs (LL), of total 6,000 members towards the active engagement of all relevant stakeholders and the codesign of the future successful strategies tackling childhood obesity and cancer. It promotes outreached upscaling activities targeting more than 10,000 schools and more than 3.3 Millions of students of age 9-16. The project aims to establish a framework of continuous assessment and validation of the new policies towards the development of evidence-based optimised strategies for upscaling and large adoption of the project's interventions and outcomes.
Objectives:
Identify the main challenges, bottlenecks and gaps towards wide implementation of effective primary interventions for decreasing the childhood obesity
Design and implementation of Living Labs (LL) through active engagement of the involved target groups (i.e. children, families, teachers, school managers and education, health and nutrition au agencies and authorities).
Active implementation research including behavioural change and testing of new policies
Continuous assessment & validation of the new policies and behavioural change models
Project duration:
2023 – 2027
Cooperation project with:
NATIONAL AND KAPODISTRIAN UNIVERSITY OF ATHENS (NKUA) EL
NATIONAL PUBLIC HEALTH ORGANIZATION (EODY) EL
MINISTRY OF HEALTH (MoH) EL
MINISTRY OF EDUCATION AND RELIGIOUS AFFAIRS (EDU) EL
WELLICS SOFTWARE TECHNOLOGIES AND RESEARCH P.C. (WEL) EL

INSITUTE OF COMMUNICATIONS AND COMPUTER SYSTEMS (ICCS) EL
Suecia
KAROLINSKA INSTITUTET (KI) SE
NATIONAL FOOD AGENCY (SFA) SE
INTERNATIONELLA ENGELSKA SKOLAN I SVERIGE AB (IEGS) SE
ARBISENSE AB (ARBI)
Bélgica
EUROPEAN HEALTH MANAGEMENT ASSOCIATION (ΕΗΜΑ)
CANCER PATIENTS EUROPE (CPE)
TIME.LEX (TMLX)
AINIGMA TECHNOLOGIES (ENI)
Irlanda
11 THE EUROPEAN ASSOCIATION FOR THE STUDY OF OBESITY (EASO)
Italia
ISTITUTO DI SOCIOLOGIA INTERNAZIONALE DI GORIZIA (ISIG)
Alemania
18 RISA SICHERHEITSANALYSEN GMBH Gmbh (RISA)
España
INSTITUTO TECNOLOGICO DE CASTILLA Y LEON (ITCL)
FUNDACIO INSTITUCIO DELS CENTRES DE RECERCA DE CATALUNYA (CERCA)
DEPARTAMENT DE SALUT – GENERALITAT DE CATALUNYA (DS)
Es un proyecto financiado a través de la convocatoria HORIZON-MISS-2022-CANCER-01-01 (Improving and upscaling primary prevention of cancer through implementation research).
Número: 101104618
Contact person:
Maite Cobo – maite.cobo@itcl.es