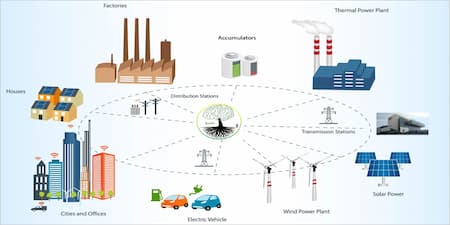 Brain EN – Research in Energy Efficient and Environmentally Sustainable Microgrid Oriented Technologies
Brain EN Consortium is committed to 21st century energy aimed at distributed generation, integrated in microgrids with own generation and self-consumption, with inherent characteristics of sustainability, security, flexibility, cleanliness and efficiency, which must be managed and coordinated with the general grid by means of new intelligent algorithms.
Project Description:
Brain EN is a project aimed at improving the production, storage and distribution of solar energy with special projection in industry and in the creation of prosumers within the electricity grid.
The project has six project lines:
Renewable Electricity Generation: focused on improving efficiency and reducing the costs of renewable electricity generation according to the scope of improvement.
Energy Storage: focused on reducing the size and cost of vanadium flow redox batteries, improving the efficiency and response of the accumulator according to the scope of improvement.
Grid Connection: focused on improving the environmental sustainability of the grid and early fault detection.
Grid management platform: focused on improving the coordination of all prosumers in the grid through information gathering techniques with Edge Computing, mobilisation of the same with specific cybersecurity techniques that ensure the viability of sending signals between the aggregator and the prosumers without affecting the security of the prosumers and with AI techniques that detect the flexibility of the prosumers and value it among themselves or in relation to the market operator OMIE and/or the system operator REE.
Experimental Development of the Brain EN Platform: focused on the connection of the different installations that form part of the experimental platform.
Project management, not included in the budget: whose objective is to monitor and control project activities.
Problem they intend to solve:
Production of photovoltaic solar energy has a high cost both in terms of resources and environmentally, in addition the energy needs to be stored and current technologies are not efficient when it comes to tackling these problems.
Project Resolution Objectives:
Brain EN project aims to reduce the cost of the battery through a prototype vanadium flow battery, the construction of a more efficient solar panel prototype and the consequent reduction of emissions in the transformation process. Likewise, technology based on Deep Learning will be used to optimise data transfer at data rate transmitted between Edge and Cloud, reducing costs, energy consumption and optimising efficiency and in the Smart Grid (satisfaction of demand, minimisation of energy cost, minimisation of environmental impact, consumer preferences for green sources, reduction of faults -security of supply-).
Project Duration:
July 2020 – December 2023
National Project in Cooperation with:
Public Research Organizations: