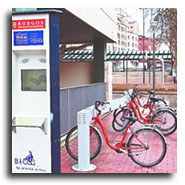 Mobility work to develop new forms of transport, organization of mobility in urban, business environments, etc.
urban mobility
Our projects seek to provide a set of technological applications to improve and optimize urban mobility by making it more efficient and sustainable, in areas such as:
Provide alternative means and methods to the usual urban mobility.
Enhancing the interoperability and integration between different means of urban transport.
Integrating intelligent recharging systems for electric vehicles.
Deploy and manage mobile offices for citizen services.
Provide different tools for implementation and management of initiatives related to carsharing, carpooling, etc.