The HosmartAI – "Hospital Smart development based on AI" project has announced the launch of its first Open Call "INNOVATE Call for Tech". This first call will have a budget of €200,000 and will be open to startups and SMEs.
INNOVATE is the first of two Open Calls planned in the HosmartAI project. This first funding project is aimed at expanding a group of interoperable technologies in healthcare, involving innovative technology startups/SMEs in the design, development and integration of their technology product/service into the HosmartAI ecosystem.
After the application deadline, the four best proposals will be selected and trained to develop high-value, high-impact technology using HosmartAI's ecosystem and technologies. Through a 6-month programme, experts in various fields will provide technical support to the selected Startups/SMEs, access to project architecture, up to €50,000 equity-free funding, visibility and the opportunity to work with innovative players in European healthcare.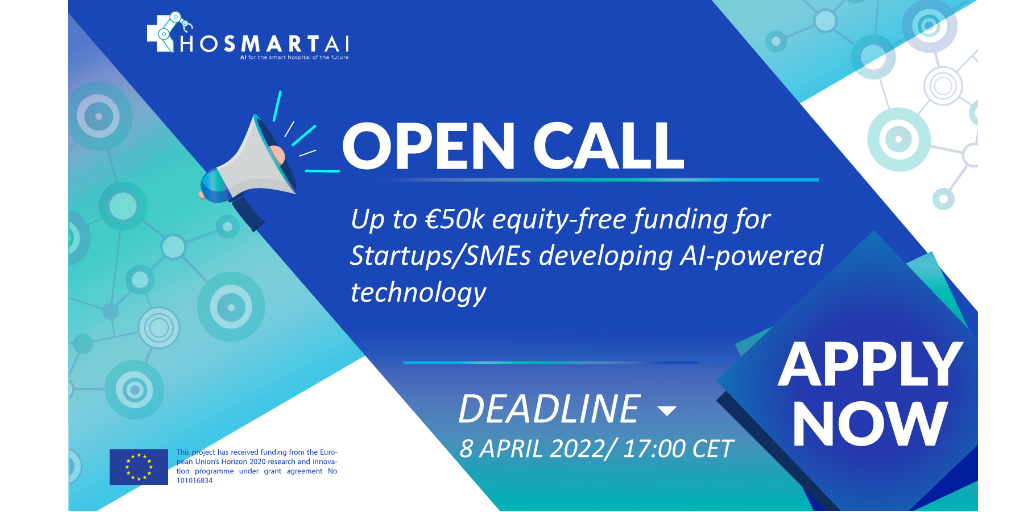 How does it work?
Startups/SMEs applying for the project will have to choose between solving particular HosmartAI challenges or incorporating a new technology to be integrated into the HosmartAI platform. The projects to be funded under the HosmartAI Open Call #1 INNOVATE must address specific HosmartAI needs and fit into one of the five Open Call topics:
Topic

#1: AI- or data-based services for the healthcare sector enabled by the HosmartAI platform

Topic #2: Creation of a HL7-FHIR de-identification and pseudonymization tool
Topic #3: Creation of a federated database system based on a popular open source FHIR Server implementation
Topic #4: Vector space map with 3D-5D interactive graphic interface
Topic #5: Data Parsing and Mapping Utility
The four best proposals will be invited to join the programme which consists of 3 sprints, each sprint lasting two months: design (sprint 1), development (sprint 2), and integration (sprint 3) of the AI technology within the HosmartAI ecosystem.
Deadline: 8 April
The INNOVATE Open Call will receive applications from 8 February to 8 April 2022 at 17:00 CET via the F6S Platform. Applicant Startups/SMEs must be legally established in a Member State of the European Union, associated countries under H2020 or Overseas Territories Countries (OCTs) linked to Member States to be eligible.
More information on the Open Call and how to apply is available on the HosmartAI website.
For more in-depth information, an online webinar will be held on 22 February at 10:00 am CET, which will provide potential applicants with more information about the programme and the application process. Free access and tickets for the webinar can be obtained at the entranceon the FS6 Platform.
Acknowledgment
HosmartAI has received funding from the European Union's Horizon 2020 research and innovation programme under grant agreement No 101016834.