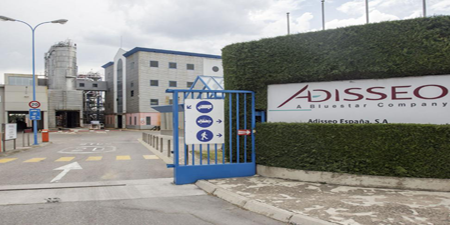 Adisseo – Intelligent industrial intralogistics management system
Software development for the planning and integration of hardware devices and IoT sensors for the control of access and movement of cargo vehicles and people in the plant.
IoT | ARTIFICIAL ITELIGENCE
INDUSTRIAL STARTING POINT
Adisseo's main problem was to solve the management and integration of internal logistics processes in the Burgos industrial plant, through digital tools.
The internal logistics processes need more control and monitoring for proper decision making, and for risk prevention, either in automatic or under semi-automatic tools, which are currently not possible under usual management systems in industrial environments.
SOLUTION 
Joint design of an intralogistics management system using a platform based on Artificial Intelligence, and software development for the planning and integration of hardware devices and IoT sensors to control access and movement of cargo vehicles and people in the plant.
IMPLEMENTATION
For the development of the solution, a two-phase project was proposed:
A first phase of diagnosis and definition of specifications of both the platform and the hardware, as well as the needs for integration into the corporate management system.
A second phase of execution, which included the ad hoc development of the intralogistics platform, the generation of the models and algorithms and the programming for the integration of the hardware elements, as well as the validation tests.
ROLE OF ITCL
This project arises in collaboration with the Digital Innovation Hub of Burgos and in collaboration with other technology partners of the HUB.
In the project ITCL has solved several challenges posed by the client:
Digitization of the operations of the personnel working in the loading docks of the customer's plant.
Integration of the logistics platform into the plant truck access control system, so that the access permit is automatically loaded without the need for personnel intervention. The trucks access the different areas of the factory according to the reading of their license plate, thus enabling complete traceability of access to the areas, optimizing time and avoiding access to unauthorized areas.
Automatic collection of information from the weighing scales at the entrance and exit of the plant and integration of the information in the customer's logistics platform.
Development of a scheduler that optimizes the reservation of time slots for the arrival of vehicles at the plant.
CHALLENGES ADDRESSED
Integration of the system elements with the necessary hardware equipment to control physical barriers for the movement of vehicles within the facilities.
IMPROVEMENTS ACHIEVED
Process improvement: Organization of entries and exits, identification of carriers, authorizations and records, planning of activities.
Improved safety, risk reduction and automation of the control system, essential in a chemical plant.
Improved agility in decision making, mainly in internal logistics planning, with a significant reduction of time and paper.
PARTICIPATING COMPANIES AND PROFILE
Addisseo: Receiving industrial company
Softeca: Technology developer
Keyland: Technology integrator
Dihbu: Analyzer of the initial industrial problem
DATA OF INTEREST:
Duration: 14 months (2019-2020)
Recipient's rating: Very positive

Figure 1. Intralogistics 4.0 Project Team
CONTACT PERSON:
Gerardo Juez – General Manager of Adisseo Burgps
Miguel Portal, head of the Applied Electronics and Industrial ICT unit – miguel.portal@itcl.es