Project Company
ITCL has developed the Take Care of Your Voice application, available on the Apple App Store and Google Play Store, which aims to guide users in taking care of their voice through different breathing, warm-up, articulation and vocalisation exercises. Cuida tu voz has several programs in which the user can choose the amount of practice and the time they want to spend on the exercises. This application offers the possibility of doing the exercises at any time and place, in a very simple way. In addition, they are ideal before starting to speak in public or in front of large audiences.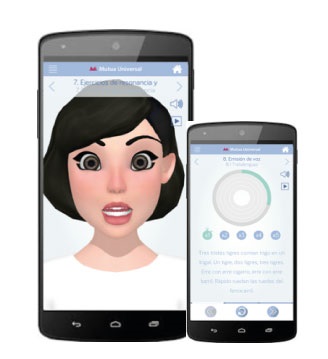 This application has been developed by ITCL's Simulation and Virtual Reality Technologies Area. The different exercises included in the application can be followed thanks to a 3D virtual character with realistic animation that guides us, step by step, to achieve a good use of the voice.
Among the exercises proposed within this application are how to do a good breathing technique, how to relax shoulders and neck, the jaw or the face mask. At the same time, within this application, resonance and voice warming up exercises are proposed and how a good voice emission can be achieved through the performance of different tests.
This application has been created as a complement to the course offered by
Mutua Universal aimed at professionals who use voice as a work tool. Teachers, speakers, telemarketing center staff or professionals dedicated to customer service can access this course, exclusively for members, which aims to disseminate and encourage healthy habits and practices to prevent risk factors arising from inappropriate use of voice.