The European project 'Working age' will help employees over 50
Source: La Vanguardia (AGENCIA EFE) February 6, 2019
Burgos, Feb 6 (EFE).- The Technological Institute of Castilla y León (ITCL) today hosted the first working meeting of the European project 'Working Age', which aims to promote healthy habits of users in their work environment and activities of daily life, aimed at employees over 50 years.
As reported by the ITCL in a press release, the program is related to the trend that exists in European countries to increase the working age above 65 years.
ITCL leads this project involving other entities such as the University of Cambridge, Politecnico di Milano, Exodus SA, Green Communications SAS, Brainsigns SRL, Reinisch-Westfaelische Technische Hockschule, Telespazio France SAS, Audeering GmbH, European Emergency Number Association ASBL, Foundation Intras and Telematic Medical Applications LTD.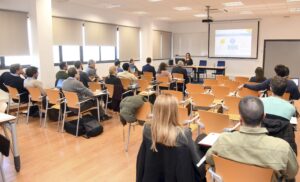 Representatives of these entities have attended in Burgos the meeting that was held yesterday and today to lay the foundations of the lines of development that will play in 'Working Age'.
The project has a financing of four million euros from the H2020 program. Carlos Alberto Catalina, head of the Research, Simulation and Virtual Reality Unit at ITCL, sees in this project "a starting point so that employees over 50 can gain quality of life in the performance of their duties."
For this, it is intended to create a 'tool' that, depending on the type of work carried out, warns the worker of the need to make postural changes or breaks to relieve stress situations.
The project 'Working Age' will study the work, physical and mental requirements of the workplace in three different environments, such as Office, Management and Manufacturing.
In addition, it will analyze the life habits of workers over 50 years of age.
The information obtained will be used to create actions that lead to healthy aging inside and outside the workplace. EFE