Solar Cooling Production and Hydrogen-Based power generation and storage
European Project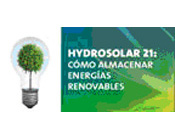 HydroSolar 21 is an innovative project, participated by ITCL and coordinated by "Plan Estrategico de Burgos" association in Burgos (Spain)".
The aim of this project is to produce and storage electric energy using hydrogen.
Two main guidelines have been developed in this project:
The application of wind and solar power technologies to hydrogen production through electrolysis process. The hydrogen generated will be stored as fuel.
The application of and adsorption-based cooling generation process towards supplying air conditioning services to a building. Adsorption process was powered by renewable energy power technologies such as thermal solar.
Other participants such as "Instituto de la Construcción", Burgos City Council, "Agencia Provincial de la Energía" and "Centro Europeo de Empresas e Innovación de Burgos" (CEEI Burgos) can be highlighted.
Demonstration stage was developed in CEEI facilities, in Villafría (Burgos).