Industrial refrigeration plants supervision system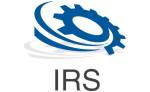 Putting technology at the service of energy efficiency services, ITCL has focused on R&D in order to develop added-value projects. As result ITCL has developed a supervision system for cooling facilities, called IRS.
IRS is an innovative tool applied to industrial cooling facilities supervision regarding energy efficiency and energy consumption. This tool supports companies on their way to energy efficiency excellence, allowing high impact energy efficiency solutions.
Characteristics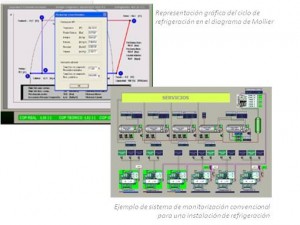 Real time energy efficiency monitoring, in pararell with Scada systems of the company.
Real time energy performance supervision based on cooling production and energy consumption.
Key performance indicators detailed information for cooling plant, including economic costs.
Thermodynamic modelling of each case allows obtaining not direct measured physical data supervision.
How it works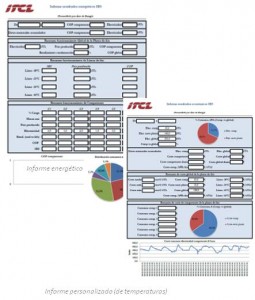 An innovative software tool captures and shows real-time information about relevant key performance indicators for cooling facilities, such as:
— Compressors performance
— Performance deviation analysis comparison
— Instant and global COP (Coefficient of performance)
— Cooling energy produced
— Daily costs associated with cooling services
— Average costs for cooling services
— Energy consumption analysis by period and manufacturing equipment
Automatic report generation (daily, weekly, monthly) showing global working conditions for the cooling facilities:

Energy efficiency reports
Economical reports

Energy consumption, energy efficiency indicators and cost analysis based on key performance indicator analysis
Customized reports for each company fulfilling client requirements
Objetives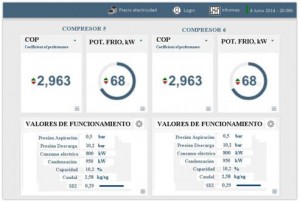 Evaluate cooling facilities energy efficiency.
Identify energy efficiency improvement potential.
Daily supervision of energy efficiency, consumption and costs associated.