DEVELOPMENT OF TECHNOLOGIES FOR USE IN UNDERSERVED CHRONIC AND ELDERLY HEALTH CARE SERVICES
–
Regional Project
This project is the origin of the prototype developed by ITCL on a new care model for rural areas that combines the provision of proximity and technological services to improve the quality of life of the elderly living in the towns and cities of Castilla y León: Wellsa.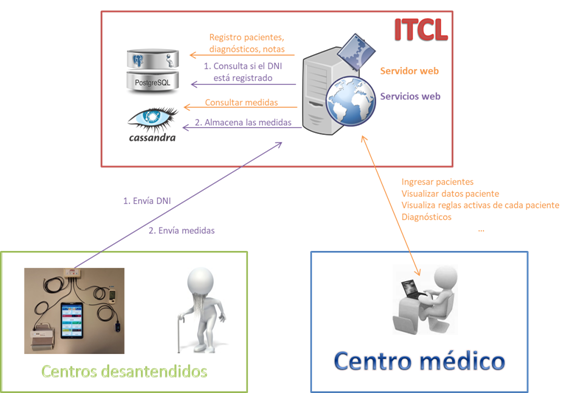 Spanish Sketch about Wellsa
The self-diagnosis system of this project has consisted of a device that brings together several biomedical variables with which it is possible to perform the diagnosis, namely: blood pressure, heart rate, glucose and oxygen levels, movement, etc.
The system consists of an electronic device which allows the integration of biomedical signals and BLE communication to communicate with a Smart Phone or Tablet.
The incorporation of a GPS module allows the location and traceability of the readings taken.
To this end, a new architecture has also been developed for the representation of unstructured information from a number of diverse and heterogeneous sources. One of the main innovations of the architecture has been the incorporation of virtual organizations of agents that facilitate the applicability of information fusion techniques and the dynamic definition of information analysis flows. The objective of this environment has been to provide three types of services fundamentally:
On the one hand, real-time users who need fast information processing to provide an answer to a specific question.
On the other hand, researchers, caregivers and public agencies that need to perform a deeper analysis of the data to develop new strategies, products and services or to detect deficiencies or possible improvements that are not easily detectable. Access to information for this type of user allows greater freedom in accessing data, which makes the development of communication interfaces more complex, but at the same time does not require short response times, which allows the use of technologies already proven in the processing of massive amounts of data. The development of this research has led to new services and new data sources.
Finally, development of self-designed algorithms that allow the extraction of knowledge of the characteristics for diagnosis. To this end, a priori, the development of two types of models has been proposed: (i) dynamic model that integrates all measured variables and determine dictionary of normal state patterns and (ii) a rule-based system that identifies how variables modify thresholds on diagnosis. The platform includes these variables, rules and decision tracking, so that medical professionals can support and use the knowledge, while triggering alarms that allow them to make decisions in big data, as part of the data scientific process.
All these innovations result in a pre-product adapted to the needs of the market and the growth needs of our technology center, being able to compete with a solution with many technical advantages over products currently available in the healthcare market.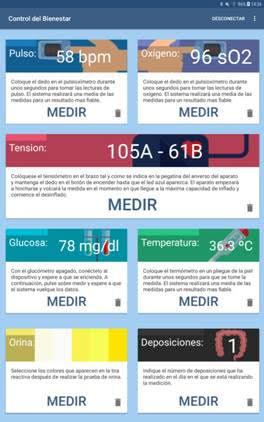 Analysis monitoring in Wellsa
The main objective of the project "DEVELOPMENT OF TECHNOLOGIES FOR USE IN UNATTENDED HEALTH SERVICES FOR CHRONIC AND ELDERLY PEOPLE" was to develop a complex self-diagnostic system that incorporates electronic components, artificial intelligence analysis, platforms and Apps applications to assist in the daily health management of elderly and dependent people in order to obtain the essential constants at the patient's home without the physical presence of health professionals.
The main technical objectives consisted of:
Design devices for self-diagnosis that allow diagnosis and medication control, while providing alarm signals and remote assistance from biomedical measurements, such as: urine analysis, oxygen, pulse, movement (frailty), etc.
Diagnose and treat the elderly population from the analysis of variables, which correspond to the vital signs of the organism.
Design, develop and integrate hardware, system intelligence, diagnostic rules and ICT user assistant.
Design interaction mechanisms for patients, physicians, caregivers and their relationship with each other.
Facilitate functionalities through the interface by the elderly or by the non-professional caregivers who assist them.
To monitor very prevalent processes in the geriatric population and their fragility, allowing for greater efficiency of healthcare resources.
Rapidly detect alterations in the evolution of pathologies and quantify pathological signs.
Develop technologies that allow remote management and care of users so that pathologies can be diagnosed in real time for multiple users.
Obtain a new architecture model for acquisition, processing, fusion and storage of information in Big Data environments.
Identify the processes for obtaining the data and sources of information under study.
Design new models of intelligent agents for data capture, storage, communication and processing.
Duration Time: 2017
Funded by:
This project has been funded by ICE-JCyL through a DIRECT GRANT received in 2016, Call for grants from the Agency for Innovation, Financing and Business Internationalization of Castilla y León (ADE), now Institute for Business Competitiveness (ICE).