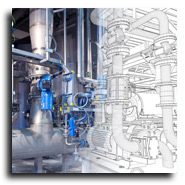 Advanced Technology Services is ITCL's department responsible for providing technological support to companies. We offer a series of personalized services tailored to each client.
Industry 4.0: Connected and sustainable industry
Design and execute MES (Manufacturing Execution System), e-factory and Scadas
Energy Efficiency: We help you to capture, monitor and control the energy consumption variables in your installations from any place in an intelligent and integrated way.
Big Data and Smart Factories: We perform advanced analysis of your process data and implement artificial intelligence applications that provide true added value.
Industrial Security
Help you to obtain mandatory and voluntary product certifications

Manage the CE Marking of your products
Guide you in design and development of products in accordance with legal regulations
Measure noise
Audit your system of prevention of occupational risks
Lean Manufacturing
Diagnose your processes
Help you manage the supply chain
Carry out capacity simulations for you
Help you implement 5S, SMED, TPM, KAIZEN tools
Analyze the distribution in plant (Layout)
Optimize the logistics of your warehouses
Design maintenance systems based on reliability (RCM).